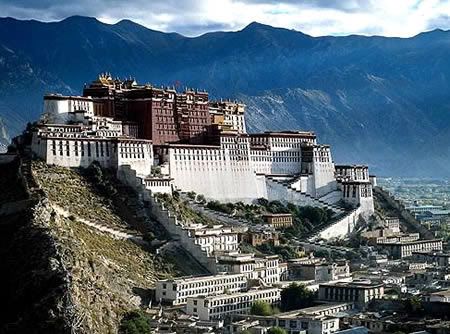 The Potala Palace: Tibet's greatest monumental structure
Perched upon Marpo Ri hill, 130 meters above the Lhasa valley, the Potala Palace rises a further 170 meters and is the greatest monumental structure in all of Tibet. In 637 Emperor Songtsen Gampo decided to build this palace on a hill, and the structure stood until the seventeenth century, when it was incorporated into the foundations of the greater buildings still standing today.
Construction of the present palace began in 1645 during the reign of the fifth Dalai Lama and by 1648 the Potrang Karpo, or White Palace, was completed. The Potrang Marpo, or Red Palace, was added between 1690 and 1694; its construction required the labors of more than 7000 workers and 1500 artists and craftsman.
The Potala Palace was only slightly damaged during the Tibetan uprising against the invading Chinese in 1959. Unlike most other Tibetan religious structures, it was not sacked by the Red Guards during the 1960s and 1970s. As a result, all the chapels and their artifacts are very well preserved. (Photo by MC)
Mont Saint-Michel: a Medieval Castle on a Small Island
Mont St Michel France is situated on a quasi-island on the Normandy coast, near Brittany, which at high tide is almost entirely separated from the mainland. Only a narrow causeway, constructed in the 1880s preserves a link to the coast. Beware: the tide comes in quickly – many tourists have drowned attempting to cross the sandy bay.
Unlike other castles in France, which began as defensive structures or pleasure palaces, Mont St Michel had its beginnings as a monastery. Today, the Castle attracts over four million visitors a year, far more than most castles in France and has been featured in numerous movies, cartoons, and even videogames. (Phot
o by citiesXL and lct)
Predjamski Castle: Integrated in a Cave
Every castle in the world is unique in some way, no two are the same, but this one –even though it's rather small and humble compared to some– is probably the only one in t
he world who is integrated in a cave, precisely the second largest cave system in Slovenia. Its name, Predjamski Grad, literally means "Castle in Front of the Cave."
The castle wasn't built in one go; first written records exist from 13th century, though the first part (left wing) was probably built in the first half of 12th century. Middle part was added in renaissance, and the right wing was build around 1570. Some things were added and changed later, but since 1990 renovation work is in progress, restoring it to the
original 16th century look. (Photo by visitareslovenia)
Neuschwanstein Castle: the Classic Fairytale's Castle
The most famous of three royal palaces built for Louis II of Bavaria, sometimes referred to as Mad King Ludwig, the Neuschwanstein it's a royal
palace in the Bavarian Alps of Germany. egun in 1869 and left unfinished at Louis's death in 1886,
the castle is the embodiment of 19th century romanticism.
In a fantastical imitation of a medieval castle, Neuschwanstein is set with towers and spires and is spectacularly sited on a high point over the Pullat River gorge.
The construction of
the castle was carried out according to a well thought-out plan. The castle was equipped with all kinds of technical conveniences which were very modern, if not to say revolutionary at that time. Running water on all floors. There were toilets equipped with automatic flushing on every floor.
A warm air heating system for the entire building. American tourists are already familiar with Neuschwanstein; the sleeping beauty Castle in DisneyLand,
was modeled on it. (Photo by grotsasha)
Matsumoto Castle: Japan's most fascinating castle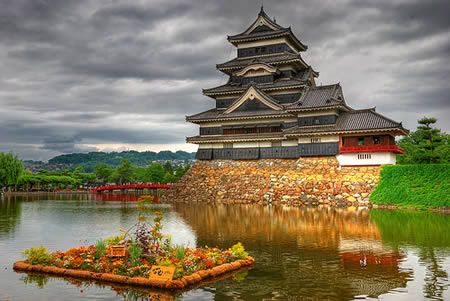 Matsumoto Castle, locally known as Matsumotojo, is one of the most complete and beautiful among Japan's original castles. It is also a good example of a so called "hirajiro", a castle built on the plain rather than on a hill or mountain.
Matsumotojo's castle tower and smaller, second turret were built from 1592 to 1614 and were both well defended, as peace was not yet fully secured at the time. In 1635, when no more military threats existed, a third, barely defended turret for moon viewing was added to
the castle. (Photo by lpq)
Hunyad Castle: were Dracula was held prisoner
Now located in Hunedoara, Romania, the Hunyad Castle was part of Principality of Transylvania, and it's believed to be the place where Vlad III of Wallachia (commonly known as Dracula) was held prisoner for 7 years after he was deposed in 1462.
The castle is a relic of the Hunyadi dynasty.
It was
built in Gothic style, but has Baroque and Renaissance architectural elements. It is a large and imposing building with tall and diversely colored roofs, towers and myriad windows and balconies adorned with stone carvings. (Photo by ctc)
Malbork Castle: World's Largest Brick Gothic Castle
The Castle in Malbork was
built in Prussia by the Teutonic Order as an Ordensburg. The Order named it Marienburg, literally "Mary's Castle". The town which grew around it was also named Marienburg, but since 1945 it is again, after 173 years, part of Poland and known as Malbork.
The castle is a classic example of a medieval fortress, and is the world's largest brick gothi castle. UNESCO listed
the castle and its museum as World Heritage Sites in December 1997. (Photo by ordensland)
Palacio da Pena: Oldest Palace inspired by European Romanticism
The oldest palace inspired by European Romanticism, the Pena National Palace in Portugal stands on the top of a hill above the town of Sintra, and on a clear day it can be easily seen from Lisbon. First
built in the 15th century as a
palace, it was later reconstructed and donated to the church as a monastery.
An earthquake in 1755 ruined most of it, until Prince Fernando acquired it in 1838 rebuilt it. The style of the
palace is an eclectic combination of the original and subsequent styles, plus Romantic, Bavarian, and Moorish architecture, plus an English garden. (Photo by cm-sintra and Matt & Isabel)
Löwenburg Castle: The Disneyland of the 18th century
Within the Wilhelmshöhe Hill Park which sits on one end of the city of Kassel, there stands what appears to be a medieval castle. However, the Löwenburg or "Lion's Castle" was ordered to be built by the Landgrave Wilhelm IX from Hessen Kassel (1743 -1821), the Walt Disney of his era, over a period of eight years between 1793 and 1801 as a romantic ruin.
It was carefully designed by his royal court building inspector Heinrich Christoph Jussow who had gone to England specifically to study romantic English ruins and draw up a plan for the Landgrave's garden folly. Today scholars regard Löwenburg Castle ruins as one of the most significant buildings of its genre, in addition to being one of the first major neo-Gothic buildings in Germany. (Photo by Ben)
Prague Castle: World's Largest Ancient Castle
One of the biggest castles in the world, and according to Guinness Book of Records, the biggest ancient castle, Prague Castle is about 570 meters in length and an average of 130 meters wide. The Czech Crown Jewels are kept here, and it was the place where the Czech kings, Holy Roman Emperors and presidents of Czechoslovakia and the Czech Republic have had their offices. (Photo by liberato)