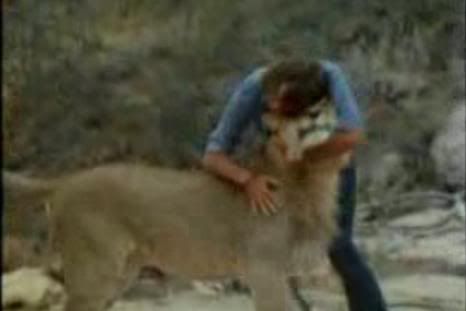 The incredible story of a lion cub bought over the counter at Harrods in London, reared as a pet in a furniture store by two young Australians, who was then freed into the wild in Kenya, has become an internet sensation. Paul Eccleston reports.
And film footage more than 30 years old of Christian the lion emerging from the wild and being movingly reunited with his former owners has been seen by millions of people.
Christian, born to a pair of captive lions at Ilfracombe Zoo, was sold to the Knighsbridge store at a time when exotic pets could easily be bought.
The 35lbs cub was bought in 1969 for 250 guineas by two young Australians – John Rendall and his friend Ace Bourke – who were living in west London.
For a year he was at the heart of 'swinging' London in Chelsea's Kings Road living in a furniture store and lavished with care and attention by his two owners who spent £30 per week providing him with four meals per day together with vitamin supplements.
A kindly local vicar allowed Christian to exercise in a graveyard, he was taken to fashionable local restaurants, travelled in a Bentley and even featured in an advertising campaign for iconic '60s fashion store Biba.
Christian, placid and loving to everyone he met, became a local celebrity and was often on show lying in the front window of the shop. In 1970, when local side Chelsea beat Leeds in the FA Cup Final replay, the store received a call from a policeman who said: 'The football fans are going to be boisterous, so you'd better get your bloody lion out of the window or they'll smash it in."
John Rendall, who has now written a book telling Christian's story, said the lion had his own living quarters in the basement complete with a litter tray which he unfailingly used: "He had a beautiful musky smell that was very distinct," he said. "But he was clean.
"He was a lot of work. It took all four of us – me, my then girlfriend Jennifer Mary, Ace Bourke and an actress called Unity Jones – to look after him."
The pet lion grew quickly and within a year weighed 185lbs and was developing his distinctive mane.
His owners knew that something had to be done about Christian's future when Bill Travers and Virginia McKenna – stars of the hit 1966 film Born Free – walked into the shop. The film told the story of a lioness who was successfully reintroduced to the wild in Kenya.
The two stars suggested that pioneering wildlife conservationist George Adamson and his wife Joy – whose work formed the basis of the Born Free film – could help Christian begin a new life in the wild in the Kenyan bush.
Within a year, in 1972, Christian – accompanied by owners John and Ace – was flown in a specially designed crate from London to Nairobi and then by light plane close to Adamson's camp at Kora.
Adamson, a controversial and often aloof figure, warned that Christian was unlikely to survive the transition but warmed to the two young men when they demonstrated the understanding that had developed with their boisterous pet.
"I think George Adamson got quite a shock when he met us," said Rendall. "Straight from the King's Road, in all our gear – flares from Granny Takes A Trip, and with hair everywhere.
"We looked rather different from everyone else in Nairobi. But then so did Christian. He'd come from winter in England, so had a very thick coat – he was almost as hairy as we were."
Adamson was won over when during the Land Rover journey to Kora he was persuaded to stop – against his better judgement – to allow Christian to answer a call of nature. The lion hopped out warily for the first time onto the hot and dusty Kenya soil, did what he had to do, and then obediently jumped back into the vehicle.
"I got back in the car, too, shut the door and George Adamson turned round and said to me, 'That is quite remarkable. You may call me George'."
At the makeshift camp where Adamson carried out his pioneering work with lions Christian was quickly integrated with two other animals, a male called Boy and a female, Katania. The three would walk out into the Kora Reserve with the rifle-carrying Adamson gradually learning about their environment.
The biggest threat Christian and Boy – who became inseparable once Christian had accepted that Boy was boss – would face was from wild lions as they attempted to set up their own territory. Tragically Boy had to be shot by Adamson after he mauled and killed an African chef called Stanley who had left the safety of the compound. When he stumbled on Boy the chef fled in panic – the worst thing he could have done – and was instinctively chased and brought down by the lion.
As Christian settled into his new surroundings Rendall and Ace Berg returned to London but continued to visit Kenya to check on their former pet's progress.
In 1974 Adamson wrote to them to say Christian had carved out his own territory and established his own pride and the two replied to say they would make one last visit to say goodbye to Christian.
Adamson said they would probably be wasting their time as Christian had not been seen for nine months but uncannily – the day before they arrived back at Kora – the now full-grown lion suddenly reappeared accompanied by his females and cubs.
And the moment when the two young men were reunited with the lion was captured on film. They call to the lion who immediately stands up and begins walking towards them? Would he remember them? Would he be friendly? Was he now a dangerous wild animal?
The outcome never seems to be in doubt. The lion is clearly deliriously happy to see them both again, bounds towards them and standing on his hind legs and throws his giant paws around their shoulders.
Rendall remembers the touching scene: "He ran towards us, threw himself on to us, knocked us over, knocked George over and hugged us, like he used to, with his paws on our shoulders.
"Everyone was crying. We were crying, George was crying, even the lion was nearly crying."
"The lionesses were far from pleased. There was a lot of growling and spitting.
George said: 'This isn't safe – we'd better go.' So we each put a hand on Christian's back and he walked with us back to camp."
After spending the night with his unlikely former owners, the male lion returned to his pride.
"We watched him go back to the two lionesses, who were not at all happy with this man, smelling of nicotine, whisky and humans," said Rendall.
"He just walloped the two of them with his paw, then collapsed."
That was the last time Christian was seen.
Adamson – like his wife Joy – was eventually murdered in the bush by poachers. But the film of the encounter has now been revived and is being used by the Born Free Foundation to raise funds for the work they continue to do with lions.
Born Free Foundation Founder and Trustee Virginia McKenna said: "Millions of people have been moved by the amazing affection between Christian the lion and his human friends, John and Ace.
"As Elsa the lioness, all those years ago, awoke a respect and fascination for lions so, I believe, Christian can be another ambassador for these wonderful animals. Now so critically reduced in numbers, across Africa.
"If you can help us to help them – join us, adopt a lion, buy the "Christian the Lion" DVD, made by my husband Bill Travers, we would be so grateful."
Videos of the meeting and details of the book can be found at http://www.bornfree.org.uk/
via telegraph.co.uk