Photo: Olavur Frederiksen
Information on the Faroe Islands
History
Not much is known of the earliest history of the islands, Irish hermits (monks) settled on the islands in the sixth century, bringing with them sheep and oats as well as early Irish language.
Around 650 AD the Vikings replaced the Irish, bringing with them the Old Norse language, which has evolved into the currently spoken (Faroese) language which is spoken today. These viking settlers came from Norwegian settlements in Shetland, Orkney and islands in the Irish Sea.
Norwegian control of the Islands continued until 1380, when Norway entered into the Kalmar Union with Denmark and control gradually transferred to Denmark. When this union between Norway and Denmark was dissolved as a result of the Kiel Treaty in 1814, Denmark retained control of the Faroe Islands.
During World War 2 the British army occupied the islands so as to strengthen control of the North Atlantic, however after the war control reverted back to Denmark and a home-rule regime was implemented granting a high degree of local autonomy.
So where on Earth are the Faroe Islands, see below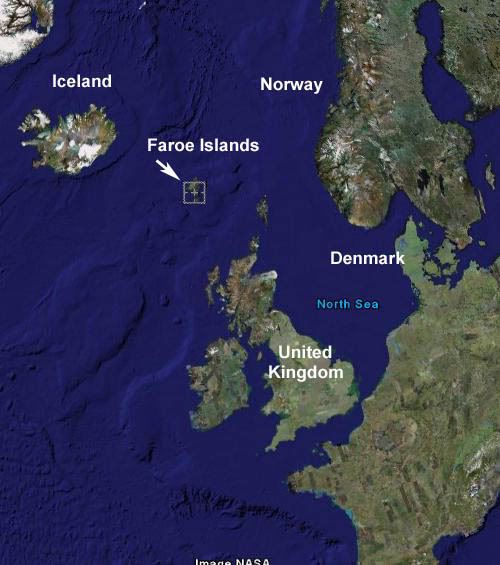 Image: Google Earth
18 main islands make up the Faroes


Image: Wikipedia
Economy
"The Faroes declined to join Denmark in entering the European Community (now European Union) in 1973. The islands experienced considerable economic difficulties following the collapse of the fishing industry in the early 1990s, but have since made efforts to diversify the economy. Support for independence has grown and is the objective of the government."
The Faroe Islands have come back in the last few years, with unemployment down to 5% in mid-1998. In 2006 unemployment declined to 3%, one of the lowest rates in Europe. Nevertheless, the almost total dependence on fishing means that the economy remains extremely vulnerable. The Faroese hope to broaden their economic base by building new fish-processing plants. As an agrarian society, other than fishing, the raising of sheep is the main industry of the islands.
Petroleum found close to the Faroese area gives hope for deposits in the immediate area, which may provide a basis for sustained economic prosperity. Since 2000, new information technology and business projects have also been fostered in the Faroe Islands to attract new investment.
Climate
As discussed above the Faroe Islands are approx 350 km north north west of the top end of Scotland, making them not far from the southern end of the Arctic Circle. Considering their high latitude the islands are not as cold as you might expect, with average temperatures of 3 degrees Celsius in winter and 11 degrees Celsius in summer.
Faroe Islands during colder months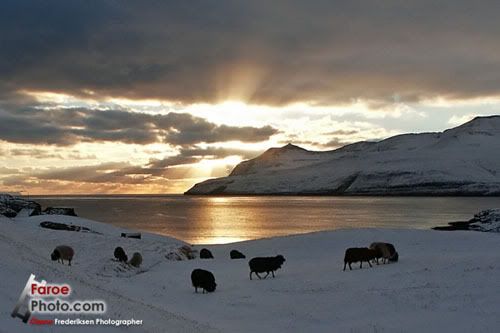 Photo: Olavur Frederiksen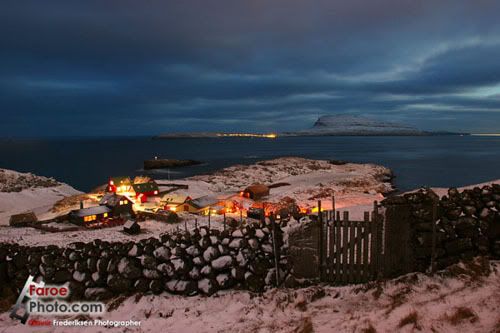 Photo: Olavur Frederiksen
Geography
The Faroe Islands consist of eighteen separate islands. The whole area of the Islands is approximately 1399 square km (540 sq Mles). There is 1117 kilometes (694 mi) of coastline. There are no land boundaries with any other country. The only island that is uninhabited is Lítla Dímun.
"The Islands are rugged and are dominated by tholeiitic basalt lava which was part of the great Thulean Plateau during the Paleogene period."
Litla-Dimun, the only uninhabited island of the Faroe Islands


Photo: Olavur Frederiksen
St.Dímun


Photo: Olavur Frederiksen
Gásadalur, located on the west-side of Vágar Island


Photo: Olavur Frederiksen
Mykines


Photo: Olavur Frederiksen
Transportation
"Vágar Airport has scheduled service to destinations from Vágoy Island. The largest Faroese airline is Atlantic Airways.Due to the rocky terrain and relatively small size of the Faroe Islands, its transportation system was not as extensive as other places of the world. This situation has changed, and today the infrastructure has been developed extensively. Some 80% of the population in the islands is connected by under-ocean tunnels, bridges, and causeways which bind the three largest islands and three other large islands to the northeast together."
Tórshavn, the capital of the Faroe Islands


Photo: Olavur Frederiksen
Torshavn Harbour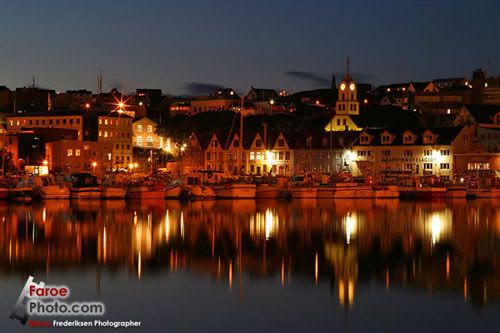 Photo: Olavur Frederiksen
Aurora over Tórshavn


Photo: Olavur Frederiksen
Aurora over Kollafjordur, a village on the Island of Streymoy's east cost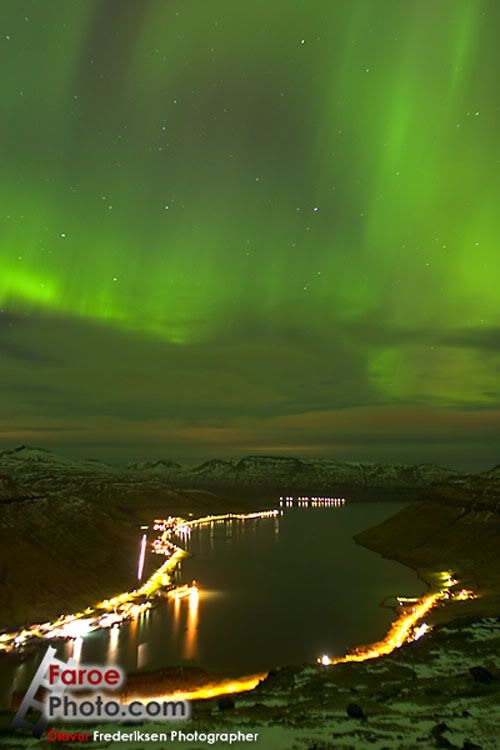 Photo: Olavur Frederiksen
Tórshavn


Photo: Olavur Frederiksen
Kirkjubø by Night, with traditional grass covered roofs


Photo: Olavur Frederiksen
Pilot Whales


Photo: Olavur Frederiksen
Klaksvík, second largest town in Faroe and on the Island of Bordoy


Photo: Olavur Frederiksen
Tindhólmur


Photo: Olavur Frederiksen
Tindhólmur


Photo: Olavur Frederiksen