Sometimes our journeys may require us to take the road less traveled, but some passengers may be better off left behind. They may never forgive you for the harrowing experience that you put them though.
Commonly referred to as "Death Road", the only route western route into La Paz, Bolivia, the road gets its name from its extreme nature.
Narrowing to only five or six feet in certain areas with a total elevation drop of 3000m in only 80km, Death Road has certainly earned its reputation. Fatalities can exceed over 100 annually.
The road is frighteningly tight, slippery and extremely bumpy thanks to a scattering of rocks on its surface. Despite all of the danger, the scenery is breathtaking.
The beautiful waterfalls easily draw the driver's attention away from the 400m drops over the edge. Surprisingly, the majority of the traffic fatalities are a result of head-on collisions rather than falls. At the height of its infamy, Death Road averaged 400 deaths per year.
Death Road has some very interesting history to its credit, with ties to the Nazi regime. The ride starts in snow capped mountains over 3600m high and traverses 65km, ending up at the humid jungle at Coroico.
An animal refuge is located at the end of the road with a wide variety of animals to see and relax with. Interaction with the animals is encouraged, as long as you are willing to let a monkey crawl on your lap, birds to perch on your shoulder and Coatis to climb all over you!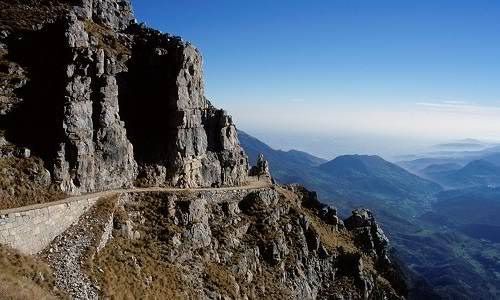 The road is a haven for mountain biking enthusiasts, although their presence contributes heavily to the death toll. Most bikers succumb to falls down the near-vertical slopes.
Some accidents are marked with tragedy. A young girl lost her life after choosing to get off her bike as a car approached. She stepped too far back to let the car by and tumbled to her death. One man was far luckier though, escaping his fall with only a concussion and short term memory loss.
Some of the challenges that face bikers on Death Road are the loose gravel, large rocks, waterfalls, jagged cliffs and the tantalizing desire to inch towards the each for a better view down. Those wishing to tour the road by bike would do well to seek a guide and travel in a group.
Numerous checkpoints exist along the route to check for narcotics such as cocaine as well as equipment that may be used in the manufacturing of various drugs. A list of banned ingredients and equipment is proudly displayed on a billboard as you pass through the checkpoint. One wonders whether displaying the necessary components of cocaine is a smart move.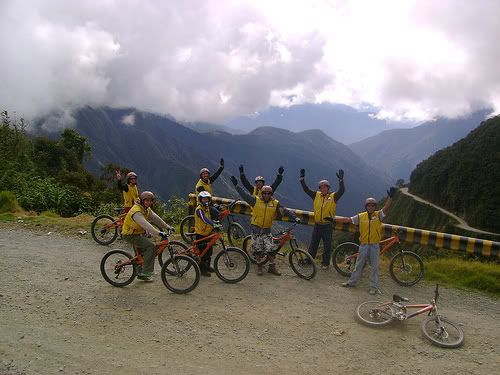 One section of Death Road involves a difficult 20km uphill climb. If you have spent your life around sea level and are not in peak cardiovascular health, you may quickly wear out from the thin air.
To add another level of psychological strain, local guides will often pause the trip to explain exactly where and how a biker fell from the road to their death. With a name like Death Road, it seems almost unnecessary to remind the group to keep a slow pace and remain cautious.
Unfortunately, the only alternate route that was built and paid for by the local government has been closed after only a year due to poor construction.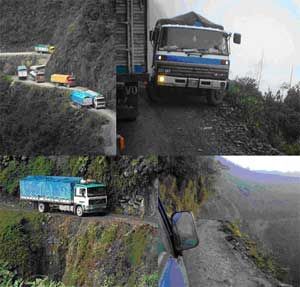 It can be fun to challenge yourself and leave your comfort zone once in a while. However, calling Death Road a challenge is a severe understatement.
When battling the slippery road, through rain and fog, the trip can be anything but comfortable. As you ride down Death Road, the rush of adrenaline is intense.
You may not be able to describe the thrilling experience until you have safely reached your destination. Some even go so far as to call riding it a death wish.
However, with a careful approach and a little bit of luck, one can enjoy what it has to offer and end up with an amazing life experience.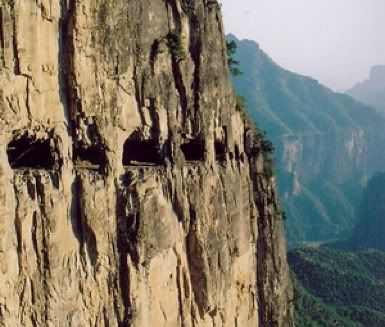 Via: sawse.com
It is definitely a trip that stands out amongst the typical adventure vacation and is an incredible escape from everyday life. The intense physical challenge, though brutal and sometimes miserable, often has people clamoring for more.
Just don't get too cocky, as an overestimation of your skills and an underestimation of the mountains' power is a recipe for disaster.